Events Management
Schools always have things going on, from upcoming exams to the next production of Oliver Twist. Communicating this information to everyone can be time consuming and could potentially take lots of forethought and planning to make sure everyone who needs to know is informed.
To help alleviate the efforts required, our school websites feature an inbuilt calendar system. This allows members of staff to add all their future events which can easily be flicked through by all users of the website.
The system has a powerful 'Date Ranges' feature enabling website editors to setup an events which can repeat daily, weekly or monthly to massively simplify adding recurring dates.
The calendar system is also 'device responsive' so resizes to fit onto smart phones and tablet computers.
Each event in the list can be clicked on, displaying a pop-up which gives more details on the event. Specific pages can also be added to the website for events which require more information.
Many of our schools add all the information to their calendar system at the beginning of the school year, the website is then smart enough to display upcoming events on the home page so everyone can see the next five events.
---


Document Management
Even in the most modern of schools, it's still necessary to send letters to various stake holders.

A common scenario is sending letters to parents, informing them of upcoming parents evenings, permission letters for school trips etc. The small postal workers we entrust these letters to (your pupils) don't perhaps offer the most reliable of service.
To help the schools manage this issue, having an easy to maintain system on the website to upload and distribute your letters can be a big help. Our school websites all come with an easy to use document management systems. So this allows the school to upload various information in an easy to download and print format. The system supports all the usual file formats including Word, Excel, Powerpoint and PDF's.
The system also has a permissions system built in. So with the addition of a website members area it is possible to make the documents only available to those who should see them.
This important feature enables the school to setup custom login areas for the different stakeholder types ( typically for School Governors, Staff, Ofsted ), so for example a Governor logs in and can see information relevant for them whereas Ofsted would only be able to access data tailored for their needs.
---
Member's Area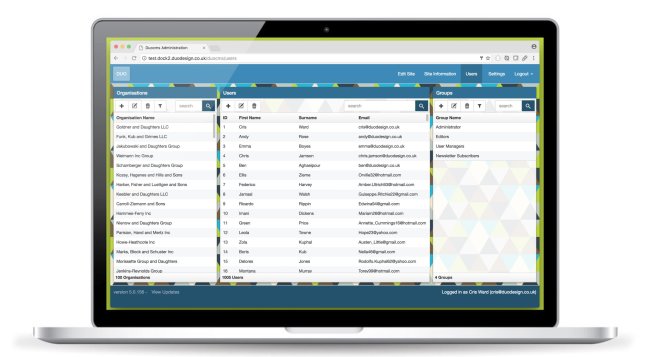 Some information on your school website should only be available to specific users. To enable this, we can set up a members area. This feature includes:

User Management System
Allowing you to administer users, adding, editing and assigning to groups.
Permissions Management
With this you can allow read access of pages and documents to specific user groups.
Member Tools
These allow your users to log in, log out, update their details and reset their password. We also have the ability to feature specific tools for members, i.e. Room Booking (see below for more details),
---

Course Search
Colleges have a wide variety of courses on offer to both the general public and local businesses.

To help market these courses as effectively as possible their specific details needs to be made easily accessible.
As part of www.business.walc.ac.uk we developed a searchable course database. Courses can quickly be found by subject, location qualification and date.
Managing courses is simply a case of college staff updating pages on their website, utilising a simple to use content management system. Each course page is tagged with subject, location and qualification. Those courses then become available within the search system.
---


Booking Facilities
Schools and colleges have a large range of facilities and resources. Computer suites, sporting facilities, and large conference facilities are common place in modern schools.
To make effective use of these facilities, making them available to the right people at the right time can take a lot of effort.
To help with this, we have developed a simple booking system which can be applied to any room or resource which needs to be managed in this way. Logging in via a members area, specific users ( i.e. teachers ) are able to book out these facilities in advance, allowing staff members to co-ordinate their activities around the availability of key resources.
Outside of school hours, the facilities within school buildings are now commonly made available to the public and local businesses helping generate extra revenue from the schools facilities. This booking system can also help with this, from Sunday afternoon football, to evening classes, this extra income can bring a much needed boost to many schools, colleges and academies. And is all easily managed as part of the schools online web solution.